Think grey hair is over? Think again. The hairstyle trend is stronger than ever, with over 10,000 people in the UK alone searching for 'grey hair dye' each month. And have you seen Pinterest lately? It's like a unicorn spewed up hairstyles.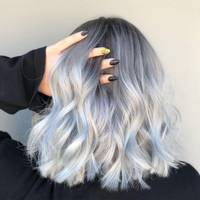 According to research by L'Oréal Professionnel, nearly four in ten (38%) women say platinum is the new blonde shade, and 28% said that they are embracing grey or considering silver/platinum for their hair colour.
This could explain why the L'Oréal Professionnel Silver Shampoo sales are soaring (they're up 55%), and new L'Oréal Professionnel colour collections like Majirel Metals, including shades like Silver Star, are responding to epic demand.
If you're worried taking the silver plunge will leave you with some all-too-obvious regrowth, never fear. Grey hair balayage is also a thing, employing the same darker roots, lighter ends method of the OG to cleverly disguise your true colour coming through.
Here are some more amazing ways we've seen the hair trend worn: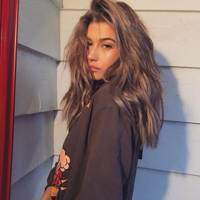 Convinced yet? Here's how to get grey hair:
"In order to go grey you have to pre-lighten the hair to a clean white blonde and then tone with a personalised grey mix tone", says Headmasters', Siobhan Jones, who was responsible for turning Little Mix's Jade Thirlwall hair silver.
"Jade best suits having more of a natural root as she has brown eyes and a warmer skin complexion so I ensured the best suitability by placing the grey tones throughout the mid-lengths and ends of the hair."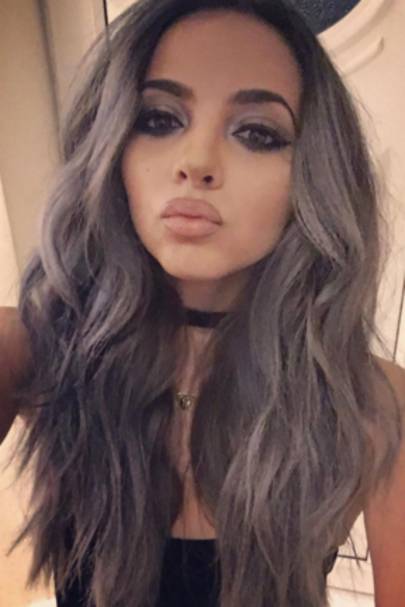 However, if you're looking to take your grey all the way to the roots, be prepared for a slight burning sensation from the bleach. When our Fashion Editor Charlie went white blonde, she warned that the scalp can get a little uncomfortable as the wait time goes on.
"Anyone wishing to go this colour must be aware that lightening your hair to this tone can weaken it, so the best products must be used to keep the hair looking healthy. Ask your in-salon colourist to check the sensitivity of your hair before you go ahead. I used L'Oréal Professionnel Platinum, plus pre-lightener, which is great as it contains beeswax, which conditions the hair whilst lifting. Jade uses the Kerastase Masquintense treatment at home and will be coming in for regular treatments in the salon. My favourite is Paul Mitchell Keratriplex Awapuhi wild ginger treatment, which works on strengthening and hydrating."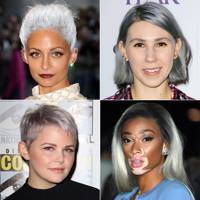 Hair stylists have definitely been noticing a rise in requests for this modern hair phenomena.
"Grey is the new blonde!", says Celebrity Hair Stylist and British Hairdresser of the Year Nominee, Jamie Stevens.
"We can't wait to see this hot trend hitting the catwalks and high streets this season. If you are looking for a change and want to experiment with different shades or tones then this is the perfect look for you."
If you like the idea of this experimental colour, but don't want to commit, there are several at-home products which allow you to dabble in silver strands.
HAIR DYES & MAITENANCE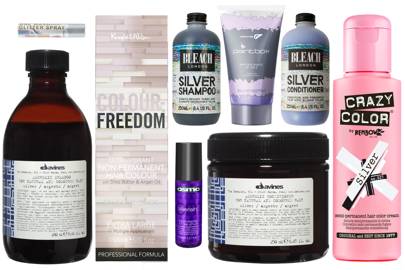 Hair Dyes:
Prep your locks with Fudge's White Shade of Pale toner, £10.36. For a subtle blonde/silver hue, give the Colour Freedom Silver Blonde, £4.65 a go. For a more full on grey shade, the Crazy Colour silver hair dye, £5.39, is ideal.
Silver shampoos & maitenance:
Bleach London's Silver shampoo, £6.50 eliminates brassy tones and helps to maintain a silver hue. Davines' Alchemic Shampoo in Silver Fox, £15.80 & Conditioner, £20.40 in Silver Grey are also lovely products for maintaining silver/grey locks. Finish with OSMO's Violet Tone and Protect Styler, £4.99 to protect your colour.
More of a colour girl than grey? Maybe rainbow hair is more your style…