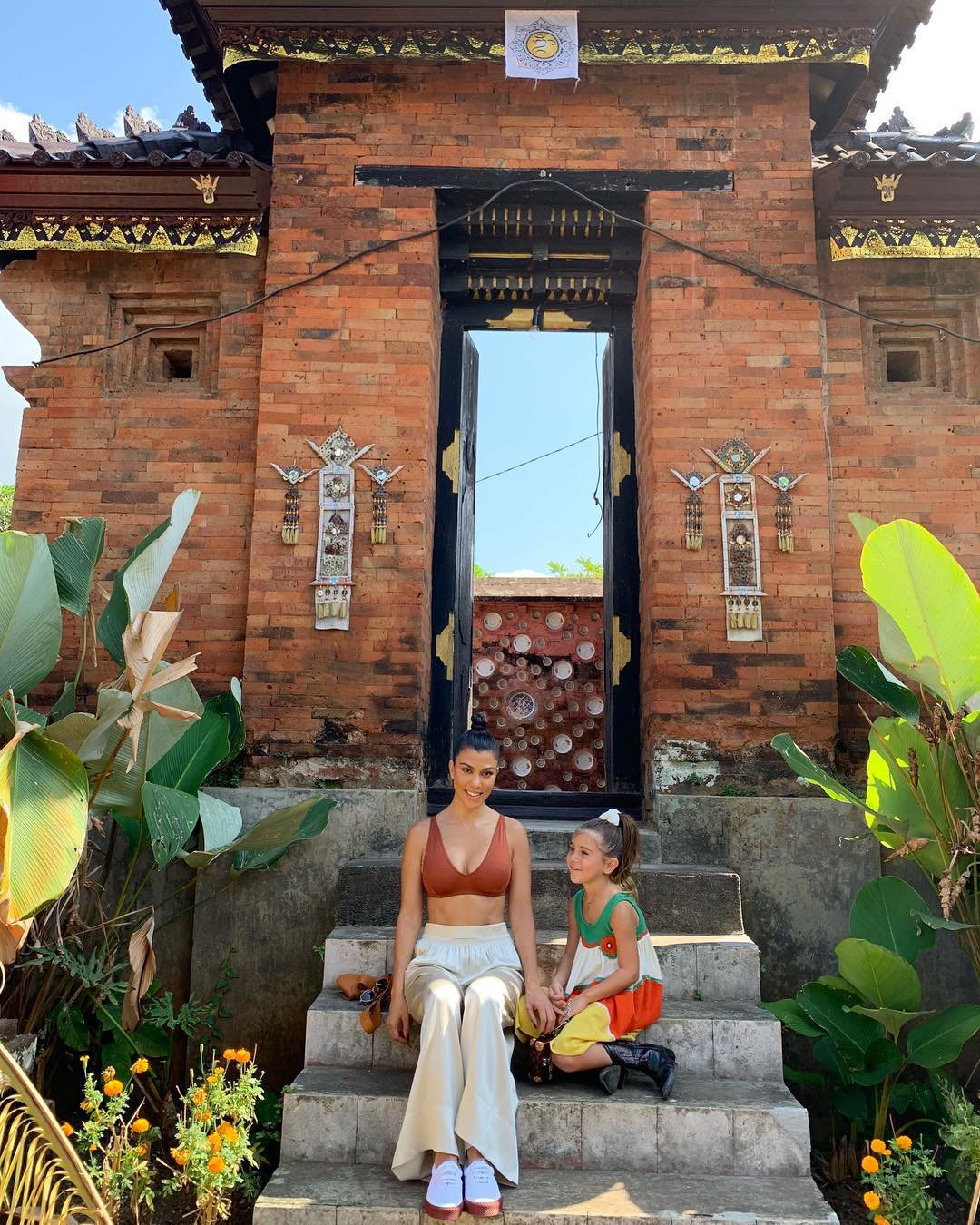 Instagram
The Kardashians truly spared no expense for their latest family getaway.
Last week, Khloe, Kourtney and Kim Kardashian took their little ones on a grand trip to Bali in honor of Kim's 38th birthday. A source told E! News the sisters "were so excited to be all together in a beautiful new place with so much to see."
The insider revealed they stayed at the luxurious Soori hotel, "in a beachfront estate right on the sand" for five days, which cost an estimated $30,000. According to the website, the estate includes a personal gym, spa and countless other amenities.
Even Kourtney's ex, Scott Disick, joined in on the fun and spent much of his time on the beach playing with their kids Reign, Penelope and Mason, as well as Kim's kids, North and Saint. "The kids spent a lot of time at the beach playing in the sand and swimming," the insider shared. "They loved the pool and got to take a boat ride." 
The source added, "Mason, Penelope, North and Reign all loved collecting shells and being outside."
As for the babies of the family, True and Chicago stayed "closer to the house and pool." 
When they weren't lounging by the pool or tanning, Kim, Kourtney and Khloe "visited the village of Tampaksrising, which is famous for Gunung Kawi, an 11th century temple." And while "all three sisters walked around and were mesmerized by what they saw," it seems Kourtney took a keen interest in the history of the sites. "Kourtney was super into the culture and learning everything she could," the insider shared. "She asked a lot of questions and was very curious about what she was seeing."
Unsurprisingly, the Kardashian family loved being able to immerse themselves in the culture of Bali, said the source. "They loved how friendly the people were and how welcoming they were," the insider explained.
To see photos of their family vacation in Bali, check out the gallery below!
Instagram
Cousin Love

Reign Disick "protects" his baby cousin, True Thompson, in a picture from their vacation to Bali.
Instagram
Best Friends

True Thompson and Chicago West took in the sights of the lush landscape while on a tropical getaway with the rest of the Kardashian family.
Instagram
Mommy & Me

Kourtney Kardashian and Penelope Disick strike a pose in front of a historic landmark. Kourt captioned the photo, "Thank you Bali for the happiness and peace."
Instagram
Views

Khloe Kardashian said Bali was "everything and more."
Instagram
Girl Power

Kourtney and Reign made some friends in a nearby village while on their stay. Kourtney said, "My favorite part about visiting Bali was meeting this little girl and the other children from a nearby village. They all loved Reign and he loved them."
Instagram
Model Moment

Mason Disick has a future in photography as he proved in the latest picture he took of his mom.
Instagram
World Traveler

Kourtney gives a shout out to Julia Roberts by making her caption: "Eat Pray Love."
Watch a brand new episode of Keeping Up With the Kardashians Sunday at 9 p.m., only on E!